I realize I am delayed on this response, but anybody else here upset with the fluffy fashion choices at the Academy Awards? I mean seriously, with the exception of one actress (my new fluffy fascination, Octavia Spencer)..I felt like the fashion was screaming "Hey I'm fat , you like my sparkly muu muu".
By the way if you are wondering why my response was delayed.....I had to take a moment to filter myself. I didn't want Blogger to ban me for donut chucking threats against the designers and stylists who allowed the Fluffy Mafia out in public like that.
Let's start with Melissa McCarthy. My disappointment in her fashion choice can perhaps be likened to the disappointment my parents felt with my choice in a writing career-"Why?"
Let's start with the fact that the only uncovered parts of her body are her face and forearms. Ok, in a way I understand the covering up of your arms...I've been there. But you know what I hate as much as I hate skinny bitches who eat more than I do? Those frilly see through butterfly-like arms, why do plus size dress designers think that shit is ok? It reminds me of frumpy mother of the bride, not "I'm a Oscar nominated Actress" *snap snap*. Also, anybody else think this dress is wearing her, not the other way around....I expected more...I feel your pain mom and dad.
Next this mess.....
Sherri Shepard is not exactly plus-size, but her breastaseses are fluffy, so I'm claiming her and her freakin BRA! Anyone want a stale donut to chuck at the people who allowed her to step out of her house like that? (I've got a whole dozen, I've been holding on too since Sunday). Sherri you need new friends, and I would like to offer my friend services to you...but only if you pay me, because I'm not sure I could hang with someone who would not notice their crusty bra showing.
Miss Piggy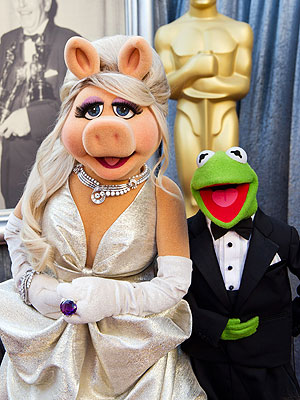 I have nothing bad to say about Miss Piggy, mostly because I'm afraid the bitch will eat me....She's OG Fluffy. I do, however, question her hair entourage for making her look like a pageant queen....I mean I love it, but it reminds me of Texas.
Now on to my newest Fluffy Queen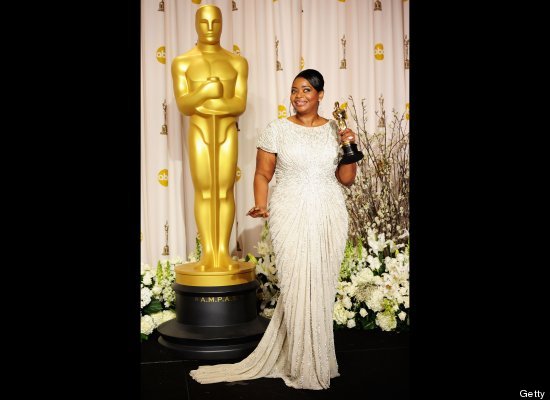 She was by far the best dressed fluffy of the night. I loved the dress...I just hated the color. It also looks like the same color as her SAG dress, I just wanted to see her in a different color...she would have blown JLo out of the water.
Speaking of...how drop dead gorge did JLo look...makes you hate her, huh?